Welcome to the December 2022 issue of Window Film News.
2022 packed a punch. While we enjoyed easing of restrictions, we were faced with booming inflation, interest rate hikes, heavy rains and floods and the cost of electricity hitting new heights. All of which impacted consumer confidence. But, thanks in part to the work of WFAANZ, the Australian and New Zealand window film industries are poised to capitalise on growing interest in sustainability and energy efficiency, and for the auto tinters, the comfort, safety and UV protection afforded by auto film. In this final newsletter of the year, we report on what's been done and what's in place for 2023. 

Government learns about window film
Efforts of WFAANZ to increase awareness among State and Federal government stakeholders culminated on December 6 at a meeting between WFAANZ and NSW government policy advisors from the Office of Energy & Climate Change at the 3M offices, North Ryde.
The NSW government team led by Kartik Madhira, Manager of Energy Programs, welcomed the opportunity to meet with the industry, given the current energy crisis and the cost of living pressures faced by families in NSW. The Office of Energy & Climate Change is supporting the NSW Bill Buster program and the Energy Saver Schemes.
The meeting arose following liaison with the Minister and the Office of Energy & Climate Change, which started following the publication of the WFAANZ white paper:
'Window Film and Decarbonisation: Exploring the role of window film in the transition to climate positive buildings'. Engagements of this nature highlight the importance of WFAANZ as an association that can advocate for the interests of the industry.
Vice Presidents Eoin Geaney and Rob Hamilton represented WFAANZ, along with executive committee member Adam Adair. The presentation focused on:
Window film technology – how it works and its benefits for NSW residents and businesses
Demonstration showcasing ease of application
Importance of WERS For Film accreditation
Size of installer network in NSW
Industry support required – WFAANZ requested the government include window film in its NSW Bill Buster program and the Energy Saver Schemes.
Eoin Geaney, WFAANZ Vice President, comments, "The meeting was engaging and well received and showcased the experience and maturity of the window film industry, while enhancing the government's understanding of the benefits of window film. The Office of Energy & Climate Change is actively assessing different technologies as part of an updated business case for consideration by the Minister, so our timing was ideal."
"Of particular interest to the government," Eoin continues, "…was the potential payback period for the resident/homeowner and the level of WERS For film accreditation within the installer network. WFAANZ will continue to stay engaged with the government to build on this positive framework over the coming months."
On hearing reports of NSW tinters being challenged over the 20% VLT limit for rear windows in passenger vehicles, specifically one scenario where an RTA official was demanding the removal and replacement of legal film, WFAANZ got to work seeking written clarification from Transport For NSW.
The debate centred on Clause 44 (6A) of the NSW Road Transport (Vehicle Registration) Regulation 2017: (6A) If a motor vehicle is fitted with at least 1 rear vision mirror to each side of the vehicle, the motor vehicle's rear glazing may be coated to achieve a luminous transmittance of at least 20%.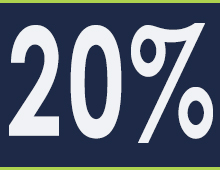 It was the (incorrect) contention of the RTA official that the language "may be coated" was referring to factory tint, and not aftermarket window film.
After hours of emails, phone calls, website queries, etc. WFAANZ finally received the written confirmation we had been seeking. The reply from Transport For NSW, 7th Nov:
"Clause 44 (6A) of the NSW Road Transport (Vehicle Registration) Regulation 2017, refers to the VLT requirements of rear windows if a coating is applied after the manufacture of the glazing material and a rear vision mirror is present on each side of the vehicle…To confirm, an aftermarket window film would be considered a coating for the purposes of Clause 44 (6A) of the NSW Road Transport (Vehicle Registration) Regulation 2017."
In other words, the language in 6A "may be coated" does, in fact, refer to the aftermarket application of window film and the VLT requirement of windows behind the B pillar in NSW passenger vehicles is 20%.
Contact WFAANZ for more info.
When talking to tinters about joining WFAANZ I'm often asked, "what will I get out of membership?".
It's a hard one to answer – not because there aren't countless reasons, but because different benefits resonate with different tinters, according to their business structure and needs.
If you're an auto tinter based in NSW, you may appreciate the hours of liaison WFAANZ recently dedicated into getting written confirmation from Transport For NSW of the 20% VLT for rear windows regulation.
If you're a flat glass tinter who installs a lot of safety film, you might see value in WFAANZ representing our industry on the Australian Standards review committee, protecting the place of safety film in the National Construction Code.
If you're a time-poor small business owner focussed on getting tint jobs done every day, marketing and social media may not be top priority. So, you could get the most rewards from sharing our social media content that does the job for you.
If like us, you see immense opportunity for flat glass film in the face of the rising mega-trend of sustainability, energy efficiency and carbon neutrality – then you'd definitely be reassured by the man hours dedicated to our industry white paper, training, talking to other industries (energy assessors, designers, architects, etc.) and meeting with government officials to ensure window film is part of the strategy to meet net zero carbon emission targets.
More directly and immediately, WFAANZ produces fact sheets, infographics and technical bulletins you can use, to help you sell film and keep you informed. Members receive a free listing on our directory, so your business details are included in search results when people look for a tinter they can trust. We're someone you can call with technical questions, or when you need advice about regulations or standards.
Coming from a marketing background personally, I think the benefit with the greatest potential is the positioning ability. Using the WFAANZ logo, promoting yourself as a member of the industry association, letting customers know you abide by an industry code of conduct and adhere to industry standards and regulations – aligns your business with the core values of credibility, quality and assurance. This benefit is intangible, but extremely powerful when used properly.
Instead of asking what's in it for me, maybe the question could be, should I support the association that supports me, my business and the industry?  For the price of a car tint or small flat glass job, you appear professional, grow your business, expand the market and inform more people about the benefits window film.
Download a registration form here, or email info@wfaanz.org.au for more info.

Paragon proves the power of film
WFAANZ member Paragon demonstrates the branding power of decorative film with this project for Print Media Group (PMG), completed earlier this year. Part of a fit out of the Ribbon Communications office in Sydney, the job included custom multi-layered reception signage, print and profile cut glass graphics.
ASBEC task group appointment
WFAANZ attended the ASBEC November council meeting and AGM held at Parliament House in November, where a new strategy that restructured the task groups was confirmed.
The new task groups include:
Sustainable, Decarbonised Communities
Effective Regulation, Codes and Standards
Improving Our Existing Building Stock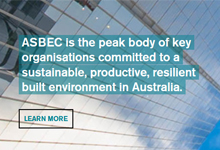 The WFAANZ representative on ASBEC, Eoin Geaney, is a newly confirmed member of the 'Improving Our Existing Building Stock' task group. The refined focus of ASBEC on ways to upgrade existing buildings ties closely with the retrofit function of window film, so having a WFAANZ representative to speak to the benefits of film will ensure it's at the forefront of products under review.
ASBEC's mission is to achieve sustainable, productive and resilient buildings, communities and cities of Australia, with the revised strategy setting out specific goals to be achieved by 2025 and indicative timelines.
New Zealand: Mandatory disclosure included in new Building Act
Lowering emissions from the building and construction sector is at the heart of Building Act amendments announced by the New Zealand government on December 5.
Minister for Building and Construction, Megan Woods, says, "…By enabling mandatory energy performance rating requirements for buildings, and waste minimisation plans for construction and demolition projects, these proposals will help us to build a better future for generations of New Zealanders.
"Energy performance ratings are already mandatory for some buildings in Australia and are popular with many building owners and the wider sector, because they help improve understanding of energy use while acting as an extra incentive for making better energy efficiency decisions.
"Energy performance ratings could help lower energy bills and reduce costs, by providing building users with the tools to better manage peak electricity demand. A higher rating could even increase a property's value or rentability. One study found an 8 per cent increase in asset value of energy performance rated buildings over those without ratings," said Megan Woods.
Early analysis indicates these proposals could support emissions reductions of 12.6 Mt CO2-e between now and 2050. For comparison this equates to nearly 19,000 plane trips between Wellington and Auckland per year until 2050.
WFAANZ will update our members on developments with this proposed Building Act amendment in 2023.
TAFE NSW continued support of the window film industry
The 2023 schedule of TAFE NSW beginner training courses in flat glass and auto has been released by TAFE NSW.
Beginner Training in Flat Glass Window Tinting: TAFE NSW Wollongong, 8 – 9 May 2023 and Bella Vista, 12 – 13 August 2023
Basic Training in Automotive Window Tinting: TAFE NSW Wollongong 28 – 30 March 2023 and 5 – 7 September 2023; and Bella Vista 19 – 21 January 2023 and 22 – 24 June 2023
WFAANZ created a TAFE NSW 2023 flyer for distribution at the CAA's Careers Advisers Annual Conference on the October 28, held at the Sydney Exhibition & Convention Centre. In this way, WFAANZ aims to educate career advisors of the many positive aspects to our industry, so they can advocate for window film installation as a career option for school leavers.
According to the industry survey conducted earlier this year, a growing and prevalent issue facing many tint business over the past two years has been finding staff. Courses like those offered through TAFE NSW help attract new trainees to the industry, and ensure a base level of quality training so participants can start work with foundational knowledge and experience.
If you have staff or know someone you think would be interested in a career in window film; or if you have flat glass experience and would like to learn about automotive film or vice versa; please contact TAFE NSW for more information.
Scott Knight   TAFE NSW  0438 987 221  scott.knight10@tafensw.edu.au
Danielle Corti   TAFE NSW   0410 235 480   danielle.corti@tafensw.edu.au
WEBINAR NEWS:
WFAANZ will present the Architectural Window Film Exam as a webinar in the near future for our members. Stay tuned for dates and registration details.
Thermal stress in the T&Cs
The phenomena of glass breaking due to differential expansion and contraction of hot and cold areas within a single pane of glass is called thermal stress.
Thermal stress breakages caused by window film are rare in Australia, yet possible. They happen when the extra absorbed and reflected heat from the presence of window film raises the temperature of the main part of the glass, while the edge under the frame remains cooler.
Nearly all films should be suitable for clear float/annealed single pane glass. As Low E or double glazed solar control windows are more susceptible to thermal stress issues, care must be taken when installing film on these glass types. Installers are advised to seek advice from their film supplier in these instances, to determine which film would be suitable for that application.
WFAANZ distributor members can assist with thermal stress calculations if you need a risk assessment.
Thermal stress breakage most often occurs without the presence of window film, commonly because of existing damage to the edge of the glass that is usually done when cutting, handling, transporting or installing the window. This is why most thermal breakages extend from underneath the frame.
As installers can't know the condition of the glass behind the frame, assumptions must be made prior to installing film that edge chips aren't present and that the glass has been installed to a professional glazing standard.
WFAANZ advises these assumptions and the potential eventuality of thermal stress breakage are referenced in a window film installer's T&Cs, to make it clear to all parties from the outset of the job.
Once you prepare your T&Cs, WFAANZ recommends you consult a lawyer to ensure your version complies with Australian Consumer Law, state laws and window film industry regulations. As each business is unique, don't copy from another business or use a generic template. Time and consideration must be spent to ensure your T&Cs cover your particular business.
As well as helping finalise T&Cs for your business, your legal adviser can also recommend how they could be included in the overall sales contract.
Things to consider…
Having your customers sign acceptance of your T&Cs before you undertake the job. Not providing your T&Cs before starting the job could affect your ability to enforce them later
Poorly worded, misleading, unfair or ambiguous T&Cs can cause confusion, conflict and may result in increased liability
T&Cs should be easily accessible and clearly formatted (not in tiny print; better to all be on one page; always provided to the customer before taking on the job)
I have had a query from a customer regarding safety film regulations for Child Care Centre's in Victoria. It is my understanding Safety film is to be 1000mm AFL. My customer thinks it is now 750mm. Could you please clarify?
This is still the current version of AS1288 being 2006. There is a new edition coming but this 1000mm requirement has not changed for schools.
Facebook ads
Wish you had more time to promote your business on Facebook? WFAANZ has done the job for you, designing a range of ads for our members to simply share on your own page, or tailor and post yourself. Below is a sample of our two series of ads – for flat glass and automotive.
Email info@wfaanz.org.au for more information.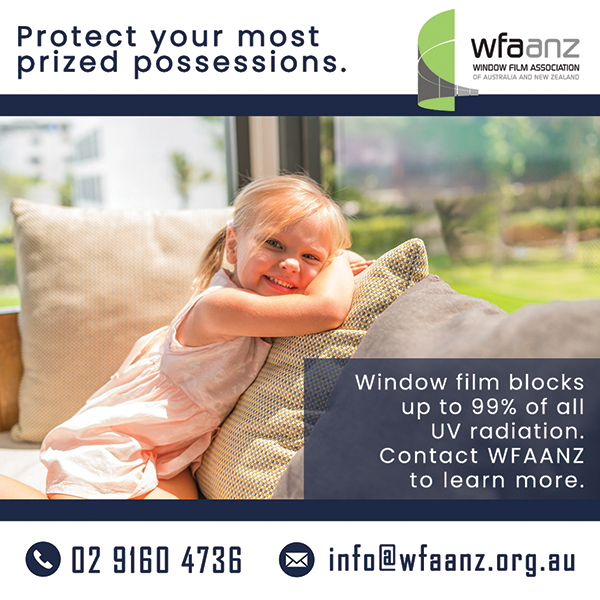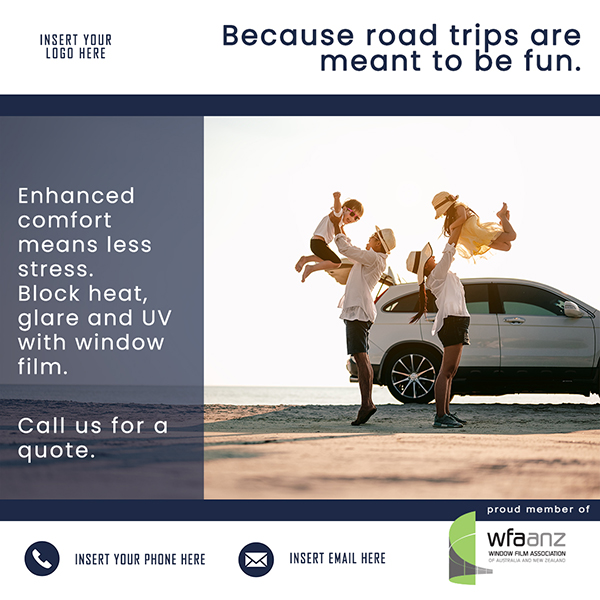 Blurb is the word
The return on investment you receive for WFAANZ membership heavily relies on how you promote it. One of the simplest and easiest ways to add value is to ensure your customers know what your membership means to them, by way of a blurb on your website.
To make life easier, WFAANZ has written text that you can cut and paste into your website…but please remember, this is for current members only. Contact info@wfaanz.org.au if you are interested in joining.
About the Window Film Association of Australia and New Zealand
As the peak body for the Australian and New Zealand window film industry, WFAANZ represents close to 200 installers, manufacturers and distributors of window film, serving as a unified voice advocating for the benefits of window film technology.
Established in 1992 as an independent, non-profit association, WFAANZ sets performance guidelines for its members, which includes a strict code of conduct and compliance with all relevant Australian and New Zealand regulations and standards. WFAANZ members receive exclusive industry information and have access to training programs and technical bulletins.
As a proud member of WFAANZ, you can rest assured of (insert your company name)'s commitment to working to the highest industry standard.
Visit www.wfaanz.org.au for more information.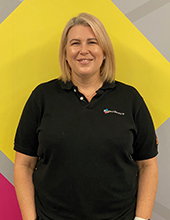 Emma Conlon, Premier Tint
What you love about the industry: With a background in Construction it's exciting to be part of creating beautiful workspaces and helping enhance customers' home experiences whilst helping to reduce their energy bills, which in turn is great for the environment.
Why you wanted to be on the committee: Being new to the industry it was important for me to be a part of a committee that helps drive our industry to be better, enable me to learn from experts within the field and be part of future changes to our industry.
Favourite pastime outside of work: Apart from being a busy mum of 4, I love to climb mountains, I'm an avid soccer player and love a night out with good cocktails.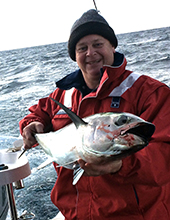 Andrew Booth, All About Window Tinting
What you love about the industry:  It's an everchanging environment. Every car is different, and every flat glass job presents its own challenges. There is always things to learn and techniques to master.
Why you wanted to be on the committee: I started on the committee at a time where there were very few installers represented and almost no auto guys. Afterall, this was my chosen field.  It pays the mortgage and feeds my children and I simply wanted a voice in regard to the direction. 
Pastime outside of work: I'm definitely the outdoors kind. A hunter, fisher, gatherer that loves the wild of the Aussie bush and just about anything that burns fossil fuel. Cars, boats and bikes are my favourites. I'm a member of fishing, 4x4ing, hunting and football clubs as I believe you need to give a voice to those things that either make you happy or they will ban everything! The only thing I love more than adventure is my family, they keep me grounded and focused.
Crystal Gross, Tint Daddy's
How you got into the industry: My husband and I bought a window tinting shop in Tulsa Oklahoma over 30 years ago.  We loved cars, drag racing and the whole scene. We learned very quickly how to tint. Today, we share that love for cars with one of our son's, who is the Manager and tinter at Tint Daddy's.
Why you joined the committee: This industry has been so good to me and my family, I want to give back.  I felt it's important to be a WFAANZ member so the tint shop owner has a say. I firmly believe that if we do not have a say in the industry it will not exist much longer. The industry in AU is such a small community,  I think the common thread that WFAANZ can create will ensure the longevity and change required to see our industry grow and evolve.
Favourite pastime outside of work: We don't get alot of time outside of work, but when we do we spend time with our family. I have two beautiful dogs and living on the Gold Coast, we love boating in the broadwater.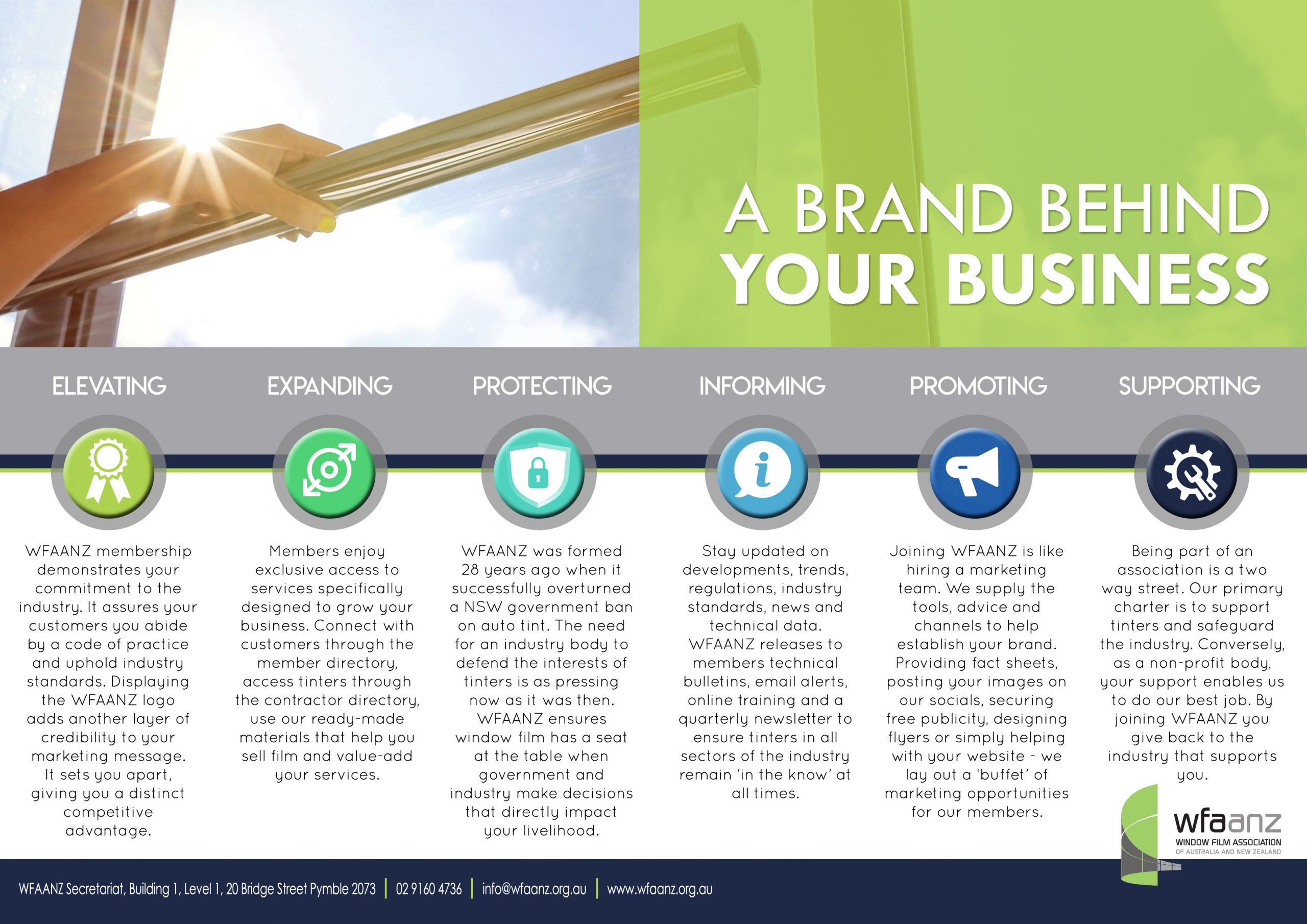 To all our members –
I wanted to pass on my heartfelt thanks for your support this year. Wishing all our members and their families a safe and happy festive season, chock full of laughs, happiness and relaxation. As ever, I look forward to working with you in 2023, which is shaping up to be a massive year with new training options, advocacy programs and industry engagement that will continue to strengthen the Australia and New Zealand window film industries.
The WFAANZ secretariat office remains open, closing from Dec 23 to Jan 9 2023. I will be back at the start of February next year.
Warm regards,
Ally Cronan, WFAANZ President