Australian States and Territories set a maximum darkness for the aftermarket application of window film on a passenger vehicle's side and rear windows. Hence the phrase 'darkest legal tint'.
This limit is expressed as a visible light transmission level, or VLT percentage.
WFAANZ advises you stay within the legal limit. Modifying a vehicle with illegally dark windows renders that vehicle unroadworthy. Failure to comply with tint laws could result in fines, rego fail, the cost of tint removal, insurance cancellation and even criminal charges if the windows prove to be a contributing factor in an accident.
View your State/Territory regulations using the links below.
The good news. A 35% VLT allowance for front passenger windows is the standard across Australia. But all States and Territories have introduced different requirements for rear windows, i.e. windows behind the driver, or windows behind the B pillar. For these windows, the NT allows 15% VLT and 20% VLT is permitted everywhere else.
To learn why it's important to tint within these legal limits, take a look at our Keeping it legal fact sheet.
WFAANZ sells a 35% VLT card to check if your windows exceed the 35% limit. Contact info@wfaanz.org.au for more info.
Windscreen. After-market window film cannot be applied to the windscreen, even if the film is optically clear, except for a visor strip across the top of the screen (which is outside the driver's primary vision area). Each State/Territory stipulates how this visor strip should be measured.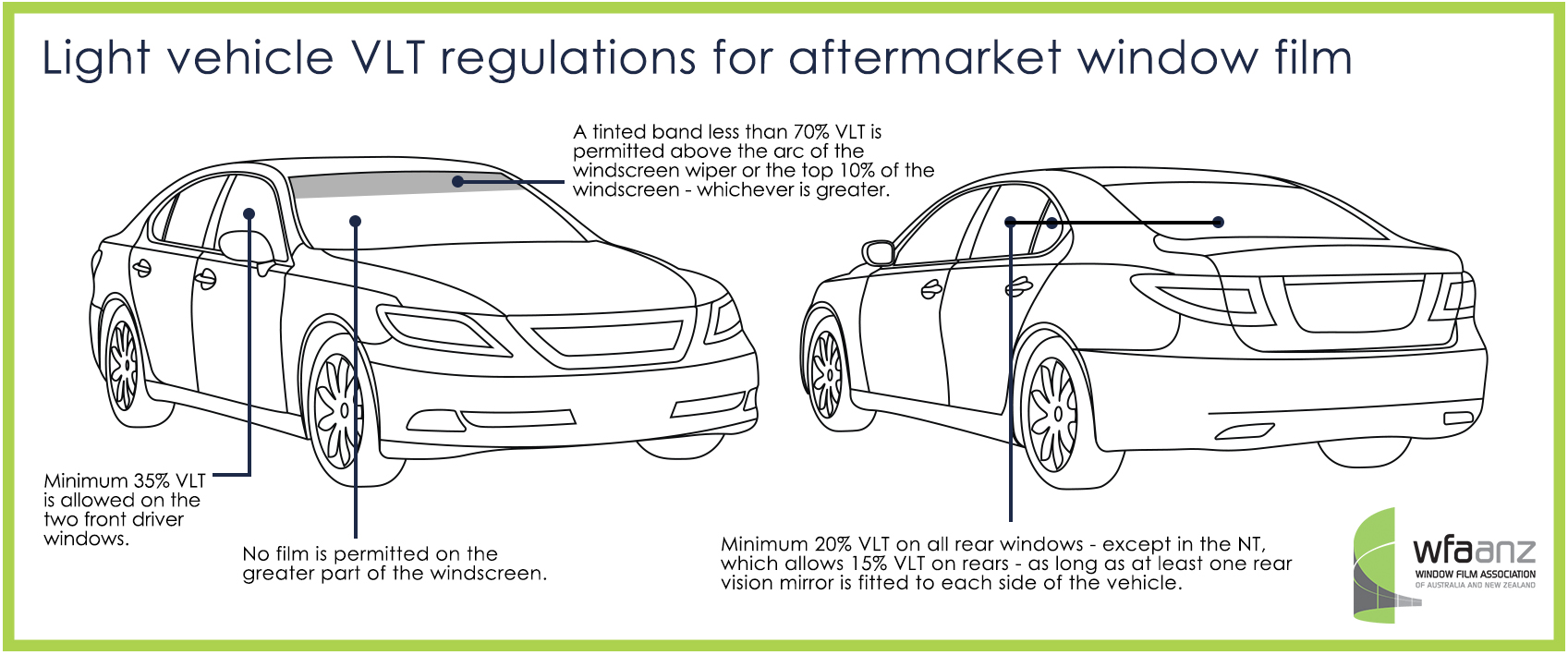 Privacy glass. For window film on privacy glass (factory-tinted glass), the same VLT rules apply, i.e. the combination of glass + film cannot exceed the VLT limit. This means you can't legally apply window film – even if it's clear film – on privacy glass that's already 35%, 20% or 15% (depending on the glass location and your State/Territory).
Reflection. Automotive films supplied by WFAANZ member manufacturers are low reflectivity, as the law states window film on vehicles must not be reflective. Reflective films are even more dangerous than illegally dark windows. Police and transport departments are vigilant on defecting vehicles with reflective films. Reflective films are the shiny silver and bronze films, which can be 'fader' films changing from dark to reflective, solid reflective films or sometimes shapes such as flames or similar.
Commercial vehicles. Tinting laws for these vehicles differ in most States and Territories – so ensure you know the rules before you tint a commercial vehicle. Typically, any darkness film is allowed behind the driver in commercial vehicles. 'Commercial vehicles' do not mean 4WDs, but rather vehicles registered as a commercial type.
VLT regulations in Victoria. After receiving numerous reports of confusion surrounding VLT laws in Victoria, WFAANZ worked with VicRoads to produce this fact sheet (right), which provides all the information a car owner should consider when tinting the windows of their light vehicle.
Click on the image right to download.